Positive Steps and Interventions
---
ADHD Books
- English/Spanish - (offsite) NorthEast Books & Publishing
ADHD Book
- Amazon
---
---
Featured books
Tornado Warning: A Memoir of Teen Dating Violence and Its Effect On A Woman's Life
(2011).
By Elin Stebbins Waldal
---
But I Love Him: Protecting Your Teen Daughter from Controlling, Abusive Dating Relationships
(2001).
By Jill Murray
---
Intuitive Eating: A Revolutionary Program that Works
(2012).
By Evelyn Tribole M.S. R.D. and Elyse Resch M.S. R.D.
"A valuable resource in the eating disorder field, both for clinicians and clients, helping all keep the end goal in mind." Carolyn Costin, renowned eating disorder expert and author.
---
Living Without the Screen: Causes and Consequences of Life without Television (Lea's Communication)
,
by Marina Krcmar
---
Meeting the Challenge of Bipolar Disorder: Self Help Strategies that Work! 33 Practical Ideas for Recovery, Remission and Prevention
,
by the AYCNP. Gabrielle Woods PhD (Editor), Dr. Laura Pipoly (Foreword)
What is Natural Psychology and Why

What is Natural Psychology
----------------------and Why
You can overcome mental health disorders and difficulties with all-natural methods, without drugs utilizing self help, drug-free professional help, and employing lifestyle changes. By developing personal coping skills most can show marked improvement in their mental health.

How Natural Psychology is Beneficial

What specific ways can help adults,

teens

and children to overcome symptoms associated with mental health or mood disorders, and how can this be accomplished without drugs?

Are depression and bipolar disorder lifetime disorders, or can the symptoms associated with these disorders be alleviated and brought into a state of remission? What about ADHD, what are the symptoms and solutions, and how can childhood ADHD be addressed without medication? "Natural Psychology" can accomplish this for many.

Many are distressed by the side effects of

psychiatric drugs

, including those of

antidepressants

. Thousands if not millions of

Children

and teens are being overdiagnosed and overmedicated with strong psychiatric drugs. Many children and adults are prescribed four or more prescriptions at one time. It is generally acknowledged by authoritative medical professionals, that

psychiatric drugs

treat symptoms, rather than the disorder. This site discusses viable theoretically frameworks in psychology such as

positive psychology

and the

bioecological model

of mental health, which have a more solid foundation in sociological and psychological realities than the "

medical model

," on which the "

label and drug

" method of addressing psychiatric disorders is based. Overcoming mental health difficulties requires commitment, some sacrifice, hard work and perseverance, but it has been done and is being accomplished by many today.
Sample pages of AYCNP Mental Health Solutions
Music Therapy
- What Music Therapy Is and How it Helps -
Professional Music Therapy
Exercise for Depression
and Bipolar Disorder
14 Ideas to Help
Quit Smoking
and
10 Benefits
of
Quitting Smoking
Howard Gardner Intelligence
Schema Helps in Teaching
Children with ADHD
- AYCNP ADHD Blog
(off-site)
Emil Kraeplin
, the
Degenerative Theory
and its Implications for
Psychiatry and Stigma
Bipolar Disorder Story
- Dr.
Liz Miller
permanently overcomes bipolar disorder through lifestyle changes, writing therapy, and
mood mapping
. The
Medical Model
-
Psychiatric Labeling
and Drugging
Psychiatric Labeling
and Drugging - newly edited and professionally reviewed
Schizophrenia Memoir
-
Illuminating Schizophrenia: Insights Into the Uncommon Mind
book synopsis - Insightful memoir into causes, description, types, emotions, relationship issues from counselor and college psychology teacher with schizophrenia. 20 Faces -
Fun Grade School Activities
-
Free Printable Worksheets
Coaching
for
Bipolar Disorder in Adults
-
Bipolar disorder coach
specialist Bradley Foster, MA details his methods in working with clients with bipolar disorder.
Coaching for bipolar disorder
can be more effective than therapy, though not excluding therapy, it is often used in conjunction with other treatments. The eBook version of
Superar el Trastorno por Deficit de Atencion con Hiperactividad (TDAH) Sin Medicacion: Guia para Padres y Educadores
(Spanish Edition), will be available on Amazon Kindle for free Friday, January 11 and Saturday January 12.
Self Help Writing
-
Journaling
for
Mental Health Self Help
Bipolar Disorder Natural Cures
- Creating artwork can be a side-effect free natural mood stabilizer and an outlet for the hyper-creativity that those prone to bipolar disorder often excel in. Education and
Psychoeducation
for Self and Family for
Mental Health Wellness
Exercise, Mental Health
--- Regular Exercise Contributes to Good Mental Health.
----------Positive, Natural Self-Help for Depression, Bipolar Disorder
Living With Bipolar Disorder
- Self-Determination
---Towards developing personal responsibility, with the goal of recovery and remission.
Dealing with Bipolar Disorder
: Self Monitoring for Relapse Prevention
Help for Bipolar Disorder
- Coaching
Life Without Television
Can Have Psychological Benefits
Therapy Success
- Honesty Promotes Healing
Marijuana and Depression
- Marijuana use contributes to depression in a significant percentage of users. Marijuana use, schizophrenia closely linked. Suicide risk increased.
Teen Depression
- Time Listening to Popular Music Correlated with Major Depression - Major Depressive Disorder (MDD) - in Adolescents
---
Most Read Articles
Self Help for Bipolar Disorder
Self help for bipolar disorder is often overlooked in favor of pharmaceutical treatment based on the medical model. Self help for bipolar disorder can be effective. It takes hard work, determination and patience, but you can overcome symptoms of bipolar disorder, with the goals of recovery and remission.

Music Psychology
Music is a powerful force in mental health. Music can elevate our moods, change the chemical balance of our mind, or cause us to identify with powerful emotions of love or hate, peace or anger, joy or sadness. You do not necessarily need to see music identify with it, therefore, music is something we experience in our mind. Psychology and music are powerfully connected.
Blaming the Brain: The Truth About Drugs and Mental Health
,
by Elliot Valenstein
Drugging Our Children: How Profiteers Are Pushing Antipsychotics on Our Youngest, and What We Can Do to Stop It (Childhood in America)
,
edited by Sharna Olfman, PhD
Psychiatric Drug Withdrawal: A Guide for Prescribers, Therapists, Patients and their Families
,

by Peter Breggin, MD
Above 3 books off-site Amazon links
---
Free e-book


Children's media issues: Facing the Screen Dilemma Young Children, Technology and Early Education, by the Campaign for a Commercial Free Childhood - Free Download courtesy of the CCFC (on-site)

---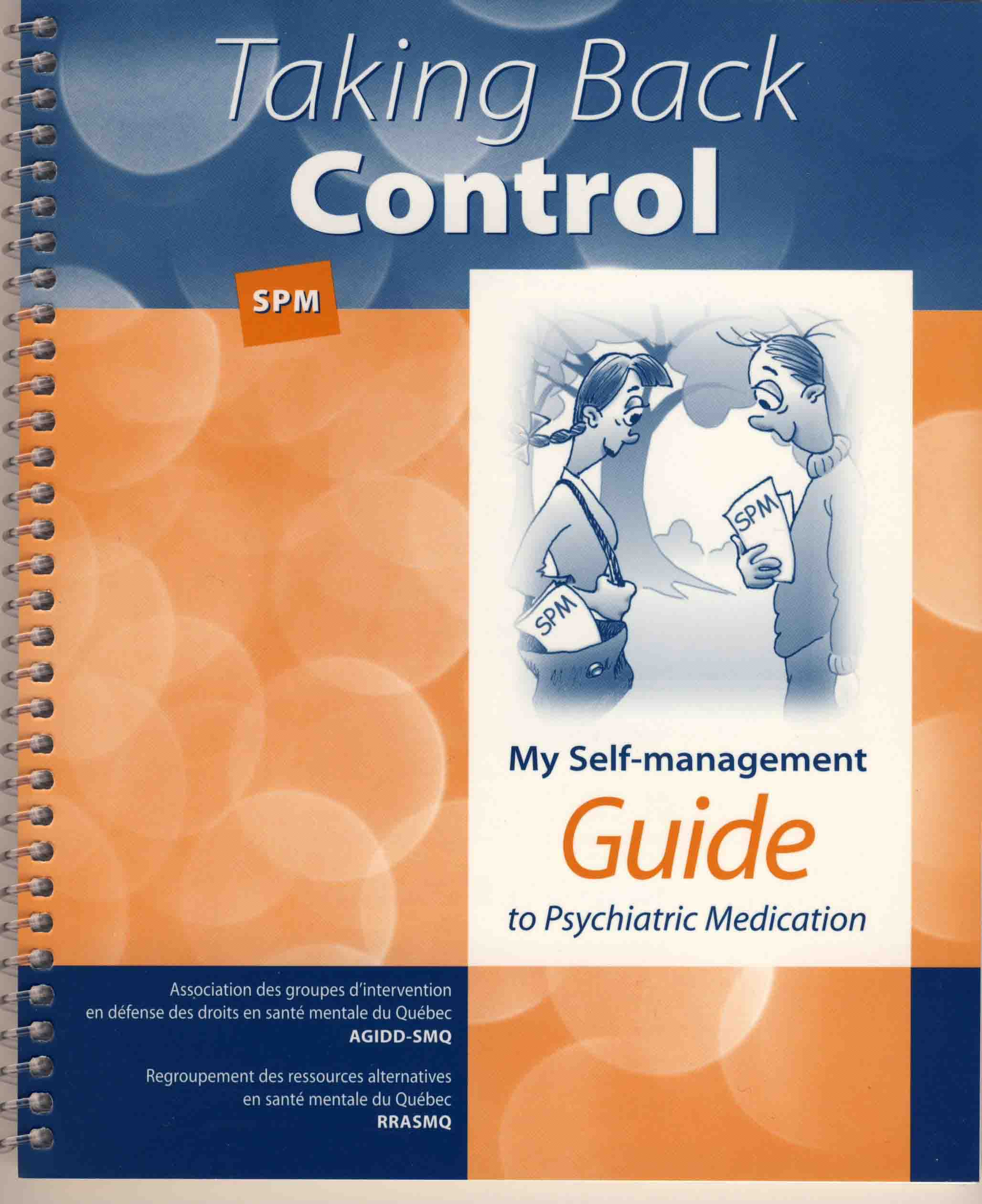 Taking Back Control: Gaining autonomy with my medication (GAM) My Self management Guide (off-site) - free eBook PDF download- This is produced by the Quebec, Canada mental health association, RRASMQ. It helps patients/clients to work along with their doctors to reduce or eliminate psychiatric medication. This is being accomplished safely and effectively in mainstream psychiatry services in Quebec through mainstream professional mental health services and organizations. The book is in French (top of page) or English (bottom). Anyone on psychiatric meds should consider this information. The book is $5 plus $5 shipping to the U.S. (not affiliated w/the AYCNP). The book is not available on standard distribution channels, but only from the authors/publishers.
---
Another good resource is the book,
Harm Reduction Guide to Coming Off Psychiatric Drugs
-
Published by The Icarus Project and Freedom Center.
---
Reference for Bipolar Disorder Self-Help:
MoodSwings: An Online Self Help Program for Bipolar Disorder
www.moodswings.net.au
MoodSwings is currently conducting a clinical study on the effectiveness of their online program
(not affiliated with the AYCNP)
.
---
eBooks from the AYCNP
Meeting the Challenge of Bipolar Disorder: Self Help Strategies that Work!
, by the Association for Natural Psychology, edited by Gabrielle Woods PhD, Laura Pipoly PC EdD (Foreword)
Self help for bipolar disorder is effective. By developing an array of coping skills and making gradual, incremental changes in lifestyle, mood swings are less dramatic and mood stability can be attained. $4.99
Attention Deficit Hyperactivity Disorder (ADHD) Checklist for Parents
by Association for Youth, Children and Natural Psychology . This is a Kindle edition available for $.99
---
All off-site Amazon links on this page are Amazon sponsored. The AYCNP is a 501(c) non-profit. The small amount of funding from Amazon helps support the non-profit activities of the AYCNP. Any other links are on-site; any other off-site links, including books, on this page are non-sponsored.
---